EdgeWave Email Filtering Appliance - MAG2800

Message Assurance Gateway Appliances (MAG) Powered by Red Condor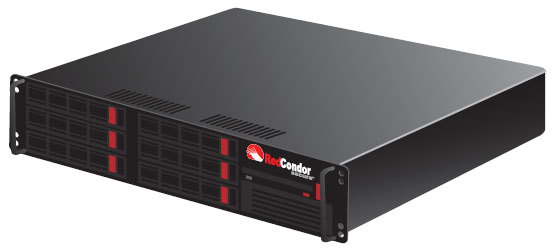 EdgeWave Products
EdgeWave Email Filtering Appliance
EdgeWave iPrism Basic Maintenance (Required for any appliance)
EdgeWave Email Filtering Appliance Service Packs
Click here for more options and pricing!
Overview:
EdgeWave Email Security (powered by Red Condor) provides unrivalled email defense against internal and external threats such as spam, viruses, spyware, phishing schemes, identity theft, and other dangerous or offensive content. With choices that include hosted SaaS, managed appliance, or hybrid failover email protection, there is never any software or additional hardware to install and maintain. EdgeWave technical experts provide proactive monitoring and management designed to stop threats before they get near your internal servers. With a choice of solutions to fit any size organization or requirement, EdgeWave assures incomparable simplicity, value and performance, and the lowest TCO on the market.
Highlights
Fully managed solutions with zero administration
Whether you choose the fully hosted email filter, a managed appliance or our hybrid failover solution with proprietary Vx Technology, EdgeWave feature-rich email security solutions are fully managed, requiring no administrative resources or maintenance.
Disaster recovery protection for up to 96 hours
EdgeWave Email Security spools all email for up to 96 hours, in case of unexpected events, so you never lose your business-critical email.
Outbound spam and virus filtering
Outbound filtering is included on our managed appliances and optional for hosted customers, assuring reputation protection against blacklisting.
TLS Encryption
This unique encryption method assures that all emails sent or received by your organization are secured and private.
Proactive monitoring by EdgeWave
EdgeWave Engineers continually monitor email processes to assure they are performing at peak efficiency.
Zero Minute Defense
This feature assures that as soon as an emerging threat is identified, our engineers deploy a specific rule to block it. No other solution has it.
Best accuracy verified by third party studies
In independent studies of email security providers, performed by both Tolly and Miercom, EdgeWave (Red Condor) Email Security beat the leading contenders in all areas including lowest false positives and negatives, lowest number of misclassifications and highest percentage of blocked spam.
24 x 7 x 365 customer support by email experts
EdgeWave experts are on-hand to assist you whenever you need them
Features & Benefits:
Features:
TLS Encryption
Our unique TLS Encryption option ensures the complete confidentiality of email communications and their content. It works by establishing private email networks linking you with your business-critical partners via the use of certificates. Every email sent or received by these networks is fully and securely encrypted while the encryption remains completely transparent to both sender and recipient.
Perimeter Defense
Our Adaptive Threat Detection™ technology provides multi-layered protection at the perimeter from denial of service and other email-borne attacks. Merit-based reputation and real-time analysis of evolving email threats combine to stop the most abusive email attacks and block spam campaigns before they get near your network.
Zero Minute Defense™
EdgeWave Email Security's third generation, behavior-based filtering technology sets a new standard for effectiveness in eliminating unwanted, fraudulent and predatory email with proprietary Zero Minute Defense. We use human review to detect emerging threats, so action can be taken to block them before they get near your email servers. When a threat is identified, our engineers analyze it and immediately create a protection rule to block it. Updates are automatically applied to your hosted service or managed appliance so you stay ahead of current and emerging threats. No other solution on the market matches our speed and efficiency in mitigating email-borne threats in real-time.
End User Spam Management
A Personal Dashboard allows each mailbox owner to refine policies and review quarantined spam. Each user can receive a Spam Digest report, providing visibility into the effectiveness of his or her individual filter profile.
Administrator Management Tools
EdgeWave Email Security solutions incorporate an intuitive Web dashboard that makes managing email security simple. Domain administrators can easily set email filter policy and monitor filter performance from a powerful, graphical interface.
Service and Support by Email Experts
EdgeWave security analysts and networking experts monitor email threats around the clock to insure email service continuity for all our protected domains and users. In addition, our experts are available to assist you with implementation and configuration of your EdgeWave solutions should you need them at any time.
Disaster Recovery
EdgeWave Email Security solutions include 96 hours of disaster recovery protection so business-critical emails are never lost. If disaster strikes or unplanned maintenance is required, we continue to accept incoming email and spool your filtered email for later delivery to your mail server.
Comprehensive Reporting
Our email security solutions include sophisticated reporting tools that provide comprehensive data on both inbound and outbound messages to help you review and manage your organization's email filtering. You can generate aggregate reports across your entire organization or drill-down to individual users. Reporting is flexible and can be generated on-demand or scheduled to run automatically during non-peak hours.
Benefits:
Fully Manage Appliances
Self-contained fully-managed appliances with their own hardened and optimized OS gives you on-site control of your email filtering and requires no software or additional hardware deployments.
Easy Integration
Complete interoperability with all platforms, email servers and client software.
Lowest TCO
Provides appliance-based protection from email-borne threats with lowest TCO on the market and significant advantages for your bottom line:
Delivers initial acquisition savings
Requires Low administration and zero maintenance
Protects Network bandwidth and prevents performance erosion
Clustering Capabilities
Can be configured in clusters to support large enterprise organizations and distributed networks.
Proprietary Hybrid Option
EdgeWave Email Security offers a hybrid solution, proprietary Vx Technology for true failover and fault tolerance.
Zero Maintenance
All MAG appliances are fully managed appliances, monitored and maintained around-the-clock, by EdgeWave engineers.
No Impact on Resources
As managed appliances, there is no need for filter training, ongoing tuning or applying individual rules. Your appliance is automatically updated and the latest rules for stopping email-borne threats applied by our engineers.
Delivery Options:
Hosted SaaS Solution

Our in-the-cloud SaaS solution, the ideal choice for customers who want comprehensive no- touch email security
Provides bandwidth savings due to re-routing your incoming email to our hosted data centers
Requires only a simple MX path redirect to start your email protection immediately
No on-premises appliance to install
Failover and redundancy assured with multiple data centers
Outbound email filtering is available as an option

Managed Appliance

Ideal for customers who want comprehensive email security in an on-premises managed appliance
Appliance easily installs at your network perimeter
Have their own hardened and optimized OS
Available in a range of models to fit your requirements
Can be combined with hosted SaaS service for failover protection
Custom branding available
Can be clustered for redundancy
Outbound email filtering included at no charge

Hybrid Solution with Vx Technology

Vx Technology adds failover protection to your on-premis appliance by shifting our email filtering to our hosted services if network interruptions, power failures or other unexpected events occur.
Assures failover redundancy without incurring cost of an additional appliance
Provides load balancing should your mail server experience an overwhelming attack
Hosted Email Protection - SaaS:
Our fully managed hosted email security services can be provisioned immediately, without having to install any hardware or software. EdgeWave Hosted Service (powered by Red Condor) allows you to conserve your valuable IT resources while delivering secure, spam and malware defense that insures the accurate and prompt delivery of business-critical email while protecting your network and users from threats. As a SaaS solution, our in-the-cloud email protection delivers infinite scalability and ease-of-use for any size organization from SMBs to large distributed enterprises.
EdgeWave Hosted Services Benefits:
No-Touch Email Protection - We host the applications and infrastructure required to protect your organization from spam, malware, phishing, viruses and inappropriate content in email.
Proven Expertise - We provide the technology expertise and front line defense required to fight emerging threats so you can focus on growing your business.
Quick and Easy Set-up - You can be setup within minutes to start protecting your networks and data, all that's required is a simple MX path redirect.
Zero Maintenance - Nothing to install and zero maintenance - the ultimate in a no-touch solution that conserves your resources.
Global Redundant Data Centers - Our global data centers provide redundancy and failsafe capabilities so you don't have to worry about losing data you might need for legal evidence or regulatory compliance
Infinite Scalability - EdgeWave Hosted Services scale to fit your small or medium-sized organization and keep protecting you as your business grows.
160 Hour Email Spooling - Fully redundant system backed up with multiple data centers and email spooling for up to 160 hours, so your email is never lost, in the event of any network problems.
Bandwidth Savings - Eliminating the volume of spam hitting your servers increases your available bandwidth for other internet-based applications. Red Condor helps reduce bandwidth costs, as well as lessen the burden on your email servers archive capacity.
Proactive Technical Support - EdgeWave's Security Operations Center is staffed around the clock with email experts and security specialists for 24/7/365 support. They provide proactive monitoring of any email threats to assure continuous service for all EdgeWave domains and users.
Getting started is Easy
EdgeWave Hosted Email Security can be easily and immediately provisioned simply by redirecting your MX records to our servers. Once that is done, our hosted email filtering service analyzes your email for spam, viruses and other threats and then passes your legitimate email on to you. This process occurs instantaneously, so there is never any latency in your email delivery. And with the lowest false positive and false negative rates in the industry, proven in two independent studies, EdgeWave Hosted Service assures that threats get blocked while business-critical email reaches its destination consistently.
MAG Appliances Comparision:
EdgeWave Email Security's (powered by Red Condor) line of MAG network appliances offer perimeter defense against spam, viruses, phishing schemes and other malicious content, blocking them before they can get near your internal servers. EdgeWave appliances assure superior defense against attacks such as denial of service or directory harvesting that can deplete network resources and interfere with efficient network performance. And EdgeWave Email Security also offers proprietary VxTechnology, which combines appliance on-premises functionality with cloud-based hosted services to deliver redundancy and fault-tolerance you won't find in any other solution.
Model
MAG2500
MAG2650
MAG2800
MAG3000
MAG4000
Capacity
Maximum Email Users1
1,000
2,500
5,000
10,000
20,000
Maximum Domains2
250
500
5,000
5,000
5,000
Quarantine/Logging Storage
100 GB
120 GB
300 GB
400 GB
1 TB
Hardware
Form Factor
1U; 14" rack-mountable
2U; 29" rack-mountable
AC Power Requirements (Amps)
approx. 2.0
approx. 2.7
Network Connections
2x GbE
4x GbE
IPMI/DRAC Ports
0
1
>Size (H/W/D)
14" (D) x 19" (W) x 1.7" (H)
29" (D) x 19" (W) x 3.4" (H)
Appliance Features:
Edgewave Email Security Appliance models are fully managed solutions that include all of the following features.
Network Perimeter Defense

Real-time IP merit defense shield
Sender-recipient reputation analysis
DoS and DHA protection
Grey listing

Comprehensive Email Protection

Multi-layer spam filters
Phishing protection
Spyware protection
Image analysis
Customizable actions & tags
IP, domain, & address white/ black lists
Rate control
Attachment blocking
Real-time rule updates

Multiple Virus Scanning Engines
Fully Managed Service
Automatic Failover with Vx Technology (optional but strongly recommended)

Per Domain Settings & Reports
Per User Settings & Reports
Comprehensive Administrator Reports
Message traffic and tracking
Audit Trail
Automatic Mailbox Discovery
Recipient Verification (LDAP or SMTP VRFY)
Disaster Recovery Email Spooling
Outbound Email Filtering
Flexible Mail Routing
TLS Encryption
Content Filtering
Custom Branding
Network Compatibility

RFC-2821 Compliant
Works with all Email Servers/ Clients
No changes required on client or server

Redundant clustered operation
Hardened Secure OS
1 - Values for number of users are estimates based on what the hardware can support with minimized latency in message delivery and maximum performance 2 - Depends on the number of users per domain, for example one MAG 2700 device could have 5000 domains with 1 user each, or 1 domain with 5000 users
True Hybrid Appliance with Vx Technology™:
Only EdgeWave Email Filtering (powered by Red Condor) offers you proprietary technology providing unique hybrid failover protection for your EdgeWave managed appliance. EdgeWave's VxTechnology™, integrates our local network appliances with our hosted SaaS service to give you seamless failover protection should an unexpected event occur. By leveraging our nationwide network of data centers, our resources are always available to take over in case of a power outage or to provide load sharing in the case of an overwhelming attack. With over 90% of all email identified as unwanted and malicious messages, VxTechnology provides the failover protection your organization requires to avoid losing business-critical email or experiencing interruptions in your email security.
True Hybrid Appliance: Get Built-In Resiliency with Vx Technology™
EdgeWave Email Security (powered by Red Condor) offers exclusive Vx Technology that integrates our local network appliances with our in-the-cloud hosted SaaS solution to deliver an industry first - a comprehensive failover solution that prevents spam attacks from overwhelming your internal servers no matter what the circumstances.
Vx Technology not only improves network performance by offloading pressure on your CPU resources with network load sharing during peak traffic times, It also provides automatic failover. This means that if an email server goes down, or you are subjected to an overwhelming attack, power outage or other failure, your email is automatically re-routed to our hosted service. You never lose an email because we save them for up to 96 hours. Once your network issues are resolved, you will receive your business-critical email, minus spam and other objectionable content just as before.
How VxTechology works
Vx Technology not only improves network performance by offloading pressure on your CPU resources with network load sharing during peak traffic times, it also provides automatic failover. This means that if an email server goes down, or you are subjected to an overwhelming attack, power outage or other failure, your email is automatically re-routed to our hosted service. You never lose an email because we save them for up to 96 hours. Once your network issues are resolved, you will receive your business-critical email, minus spam and other objectionable content just as before.
Continuous Availability is Assured
Malicious email attacks can put excessive demands on computing capacity that can degrade network performance. Being able to offload your email filtering to EdgeWave's hosted email filtering service assures that your legitimate, business-critical email continues to flow. Other vendors address this issue with multiple appliances, which may sit dormant until a problem arises. Only EdgeWave delivers a hybrid solution that seamlessly integrates our appliance and hosted services to provide uninterrupted availability of your critical email security, no matter what internal or external problems you may encounter.
The Only True Hybrid Email Filter
Don't be fooled by email security providers that claim to have a hybrid appliance. Often, you must purchase two solutions - a hosted service for inbound filtering and an onsite appliance for outbound email. Our single deployment model offers seamless integration between appliance and hosted service for both inbound and outbound email filtering, assuring you the most accurate, cost-effective way to enjoy efficient uninterrupted email protection.
Don't Deploy Your Red Condor MAG Appliance without VxTechnology
Although Red Condor VxTechnology is an optional service for managed appliance customers, we strongly recommend that you don't purchase our appliance-based solution without also acquiring our affordable failover protection. No other solution on the market offers seamless failover protection that can free you from concerns that a catastrophic event might jeopardize the safety of your business-critical email.
Pricing and product availability subject to change without notice.
EdgeWave Email Filtering Appliance
EdgeWave iPrism Basic Maintenance (Required for any appliance)
EdgeWave Email Filtering Appliance Service Packs
EdgeWave Email Filtering Appliance Vx Failover Service