EdgeWave Email Archive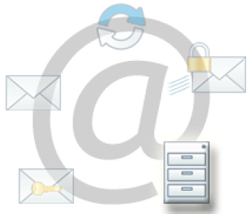 Email Volume is Growing
Email Volume is Growing The volume of email your business has to process has grown over 500% in the last 10 years and there appears to be no decline in sight. It is likely the amount will continue to increase, pushing your organization's email servers to the limit, resulting in costly downtime and reduced productivity. Of even greater concern are industry-wide legal and regulatory requirements mandating that you retain all your organization's email in an unalterable state.
A comprehensive email archiving solution will not only help you meet corporate, legal and regulatory requirements, it can also help your organization achieve other critical goals.
Simplify mailbox management, shrink storage costs and reduce backup windows
Protect critical business information and intellectual property
Accelerate legal discovery and enforce corporate email policies
EdgeWave has the Solution
EdgeWave Email Archive is a secure enterprise SaaS solution for storage management that retains your email in an unalterable state to help meet compliance requirements, provide litigation support and meet corporate best practices guidelines. EdgeWave's policybased archiving and built-in reporting features combine with easy-to-use management tools to assure your archived messages are indexed and easy to retrieve whenever you need them.
EdgeWave's feature-rich email archiving supports client software integration, email stubbing to maximize server storage, mobile archive access, litigation support tools, centralizing, importing all historical emails and more.
EdgeWave Email Archive supports all major messaging servers including Exchange, Domino, GroupWise, and Linux-based environments and can be deployed easily with minimal resource expenditures. Your archived email is hosted in a secure environment with industryleading archiving performance, high availability, and disaster recovery. Data is encrypted as it leaves your corporate networks, to be stored in our secure archive with 128-bit encryption. Highlights
Overview:
EdgeWave Email Archive offers secure email archiving that is scalable to fit the requirements of any size organization. Our affordable archiving retains your email in an unalterable state to help you meet requirements for regulatory compliance, litigation issues, storage management needs, or to fulfill business best practices guidelines. EdgeWave Archiving Services are in-the-cloud, so infinite scalability is assured. And our secure data collection technology provides comprehensive interoperability with all messaging systems.
As an SaaS solution, EdgeWave Email Archive delivers maximum scalability, provided by off-premises archiving that reduces costs and provides unlimited storage capacity that can grow to meet your organization's demands without incurring additional costs. Our archive is easy-to-deploy and includes an intuitive interface and role-based administration via your browser, so implementation can be achieved within minutes and ongoing management and maintenance are virtually touch-free.
Key benefits of EdgeWave Email Archive include:
Archiving of all inbound and outbound messages, internal and external
Increasing storage at no additional cost
All data searchable at all times
Preservation of data
Easy to use interface
Instant set-up
Redundant data centers
Intuitive Management Dashboard
Individual End User search
Supports all messaging systems
Why Archiving is Critical
Storage takes time and money - As your email volume and message size grow, storage capacity and IT staff time become critical, bottom line issues. The legal and regulatory requirements to retain email and IM communications can seriously affect your storage capacity.
Regulatory requirements and internal policies demand compliance - Ever since the Supreme Court ruled that emails messages are corporate property, retaining them has been crucial for both regulatory and internal compliance. In the event of litigation both email and IM communications can be subpoenaed as evidence and you'd better have them available in their original state for a defined period of time.
The Spam glut has a negative impact on productivity and systems - With business demands dictating 24/7 network uptime and email size and volume growing at unprecedented rates, you can't afford to let it overrun your organization. Getting spam and all electronic communications under control is vital to maintaining optimum network availability and business productivity.
EdgeWave Secure Archiving captures all your message data before it reaches your networks, making spam and storage problems a thing of the past. Because our archiving service is in-the-cloud, storage capacity is never an issue. No matter how much your organization grows and regardless of how spam evolves, our data centers can handle the traffic.
Features:
Unrivalled Security and Privacy
EdgeWave Archive secures data at three levels, physical infrastructure, data encryption, and the application layer, to assure that data is always secured in transit and at rest. Our data storage is secured via industry standard encryption. There is never any co-mingling of archived data between customers. At the application layer, we use Secure Socket Layers (SSL) to encrypt all communication between the web browser and the data center, and a processing pipeline that insures performance and data privacy among all customer accounts.
High ROI, Low TCO
EdgeWave Secure Archiving has a low fixed cost per user for annual or multiple year subscriptions that makes planning easy. Migrating your data into the cloud allows you to reduce your internal storage and maintenance costs by reallocating or eliminating on-premise or hosted servers. You also avoid compliance fines and fees associated with data loss, while reducing the costs associated with eDiscovery and analysis by leveraging our easy-to-use management interface for early case assessment.
Easy-to-Use
With no hardware to buy or software to install, you can be up and running instantly. The simple and intuitive web-based interface makes set-up easy and rapid search and retrieval is possible by individuals in a personal archive or by authorized users across your entire archive, without burdening your IT staff.
Robust Technology – Fastest Search and Retrieval
EdgeWave Secure Archive uses cloud-compute infrastructure for scalability and reliability. Our unique and differentiated cloud-compute software stack harnesses on-demand CPU and geographically dispersed storage to power archival functions for data ingestion, indexing, search, eDiscovery and export. The EdgeWave system uses map-reduce style parallel processing to search very large data sets in sub-second response times. Parallel processing is only possible with cloud-compute CPU, because of its ability to scale up in real-time. This makes every search experience rapid with no waiting for jobs to complete.